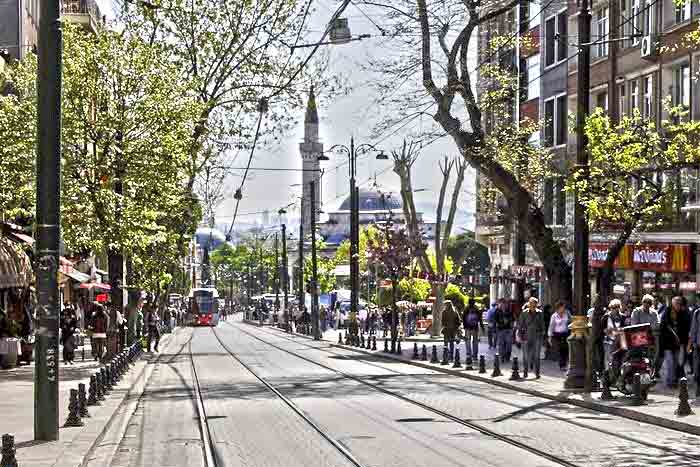 Daily Istanbul Tour – from Mese to Divan Yolu
'The Road to the Imperial Council' from Sultanahmet Square to Beyazit Square is an enjoyable Istanbul history lesson during Daily Istanbul Tour and one of the many Turkey sightseeing.
Divan Yolu, the "Road to the Imperial Council," was once the imperial road from Constantinople to Rome (map). It takes its Turkish name from Ottoman times, when it was in fact the "Road to the Imperial Council" (Divan) in Topkapi Palace.
When it was laid out by Constantine the Great in the early 300s AD; Divan Yolu (dee-vahn yoh-loo) was the Mese. It was the main boulevard leading from the city centre on Seraglio Point to the Golden Gate in the city walls; where it met the road to Rome walking tours istanbul.
Do you know what the name of the main street in Ephesus was? Curetes street. Join Ephesus walking tour and you can walk on it listening to an eloquent guide telling you stories of time long gone.
The beginning point of the Mese was marked by the Milion; a grand monumental structure called a 'tetrapylon' ('four-tower'); four towers at the corners of a square footing, topped by a dome.
The Milion was apparently razed in the 15th century. But remnants of it were discovered in the 1960s. And a short marble shaft was re-erected at the northeastern end of Sultanahmet Square; in the little park above the Basilica Cistern (Yerebatan Sarnici) daily istanbul tour.
Divan Yolu main avenue
Divan Yolu is now the main avenue through historic Old Istanbul; starting at Sultanahmet Square and the Hippodrome and heading westward to Beyazit Square and the Grand Bazaar. The road changes names as it goes, becoming Yeniceriler Caddesi ("Avenue of the Janissaries") through Beyazit Square. Then Ordu Caddesi ("Army Avenue") to Aksaray Square. Under different names the road continues out to the city walls, through a gate, and on toward Rome, a thousand miles (1600 km) away.