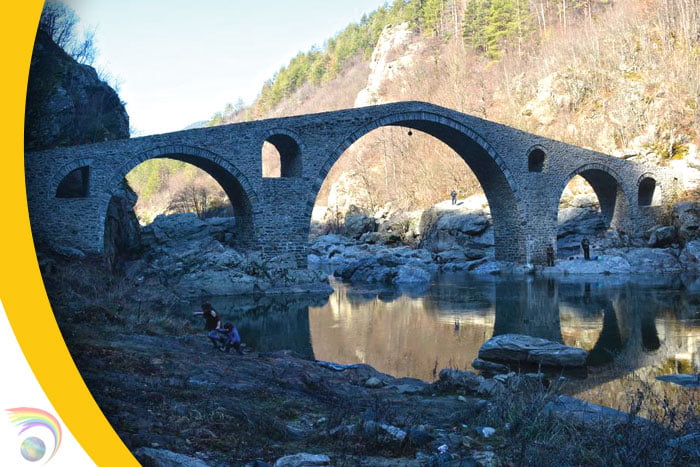 Today's train of tour Bulgaria is leaving the capital of Bulgaria, Sofia (private tour Sofia), to travel to the Rhodope Mountains. It stops at stations that tell legends for the mountain. These are interesting just like everything else in the area. In all of them Rhodope is a young girl who everybody loved and wanted for themselves.
According to a Thracian legend, Rhodope was a mythological queen and Hemus – her brother. Their father was a sea god. The brother and the sister were very happy. They used to play a lot in the vast fields until one day when they decided to pretend being the oldest gods. In their game Rhodope and Hemus became husband and wife. Hemus made himself a big, white beard while Rhodope let her beautiful blonde hair down.
That made the gods, and especially the main god Zeus, angry. He was that annoyed that he turned Rhodope into a mountain. Seeing this, her brother, Hemus, got so scared that he calcified and became a mountain as well. Since then the brother and the sister became mountains. Hemus is the Thracian name of Stara Planina, and his sister – Rhodope Mountains. The two mountains are away from each other and there is the spacious Thracian Plain between them.
Or, another legend says that Rhodope and Hemus were young and in love with each other. That annoyed gods a lot and they turned them into rocks.
Tour Bulgaria – mystical reality
However, according to some sources, the name Rhodope has a Slavic origin. It has the Slav words 'ruda' and 'ropa' in it. That is 'ruda' (meaning 'ore') and 'pit'. They characterize the ancient activities which were done in the past – ore output and casting.
The most famous legend says that the mythical singer Orpheus was born in the Rhodope mountain. He was enchanting people and animals with his magical music. When on tour Bulgaria train, one can visit many places in the mountains. Among the most interesting ones are the caves – the Yagodinska cave and the Devil`s Throat cave. Yagodinska cave is the third longest cave in the country and the longest in the Rhodopes. It is the most beautiful one in the mountain as well.
The article above is available on www.enmarbg.com. If you are looking for more information, please visit tour Bulgaria.
Read More about The Attendant`s Confession part 7