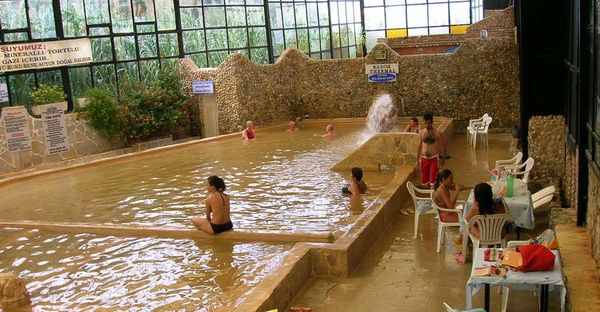 Thermal springs remedy illnesses
Thermal springs of Sivas, with their hot and cold healing waters, are the most attractive features. Balikli Thermal Spring located in the valley of River Hamam, 13 kilometers northeast of the Kangal district, 90 kilometers from the city center is visited by numerous tourists.
Yilanli germik
The thermal spring known as Yilanli germik has an altitude of one thousand and 425 meters and is fed by five different springs. Spreading its fame, this healing thermal spring that started to serve in 1966 with four pools and a motel with 2 floors and 16 rooms, nowadays serves with four sections of hotels, six pools, 16 private baths, restaurants, shops and a tea garden. Kangal Balikli Thermal Spring is effective for the cure of dermatoses like spore and rheumatism problems. Healing properties arise from the chemical properties of the water and the inhabitant fish inside.
It is said that the fish living in the 36-37 Celsius degree wat