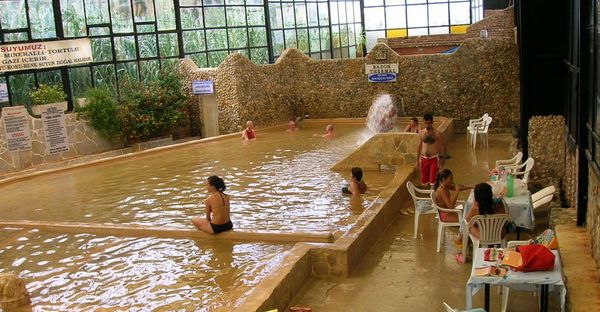 Thermal springs remedy illnesses
Thermal springs of Sivas, with their hot and cold healing waters, are the most attractive features. Balikli Thermal Spring located in the valley of River Hamam, 13 kilometers northeast of the Kangal district, 90 kilometers from the city center is visited by numerous tourists.
Yilanli germik
The thermal spring known as Yilanli germik has an altitude of one thousand and 425 meters and is fed by five different springs. Spreading its fame, this healing thermal spring that started to serve in 1966 with four pools and a motel with 2 floors and 16 rooms, nowadays serves with four sections of hotels, six pools, 16 private baths, restaurants, shops and a tea garden. Kangal Balikli Thermal Spring is effective for the cure of dermatoses like spore and rheumatism problems. Healing properties arise from the chemical properties of the water and the inhabitant fish inside.
It is said that the fish living in the 36-37 Celsius degree water applies a miraculous treating method. Pools have the capacity of serving up to one thousand and 500 people per day. Cold and Hot (Soguk and Sicak) germik is another important region known for its healing waters. Cold germik is not a place visited only for its cold healing water but also as a traveling point for its 4 Eylul Dam scenery.
Today at your service with its modem terminal and renewed runway, Sivas Nuri Demirag Airport`s name comes from Nuri Demirag, who laid the foundations of our country`s aviation industry in 1936.
Nuri Demirag Airport
Sivas Nuri Demirag Airport was only a base used for military purposes (NATO) when it was first opened in 1957. After the renovation works performed, today it is one of the most modern airports in the country with its runway that is Turkey`s second longest. Besides, Sivas is an important destination in Turkish aviation history.
With the new terminal, as big as 2 thousand 217 square meters, built by DHMI in 1991, civil aviation traffic started to move to Sivas. Closed to air traffic for a short period in 2002 due to Cabinet Decision, the airport was opened back on for air traffic in 2003, again due to Cabinet Decision.
Read More about Kazanlak – the town of the most beautiful among women, the rose