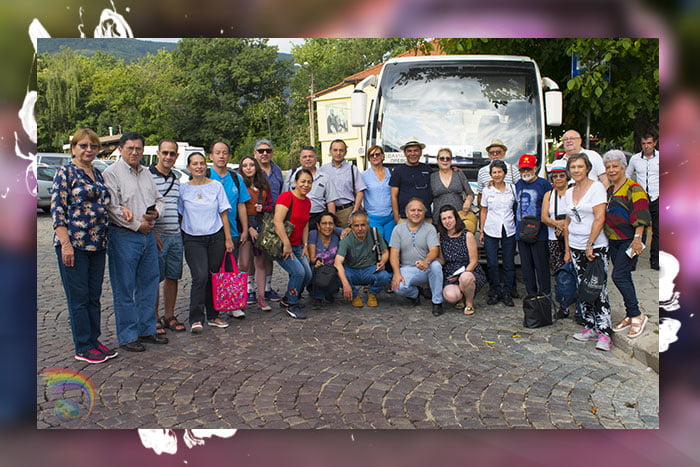 VIIIth International Meeting Bulgaria 2018
Diego Endara, an eccentric guy from Ecuador. He is passionately in love with Bulgaria and has already written 3 books about it. He managed to gather a group of ex students in Bulgaria and their families from around 11 countries, mostly from middle and South America. And here they are, in Bulgaria, for their excellent Bulgaria tour. Of course, I shouldn't forget to mention that Diego suggested an itinerary. We forked on different routes for almost a year. Eventually, a little bit tight but good program came as a result.
Some of these students (successful people and professionals today) studied in Bulgaria 30 years ago. Very few of them have come back to Bulgaria once or twice for these 30 years. But 2018 was the year they all met here, in Bulgaria. It was a great and memorable experience for them…
We are looking forward to entertain you again, Diego.
The tour
Sofia
Meet the guide at Sofia Airport beginning of September, 2018.
Check in into a hotel in Sofia. Dinner in the hotel and overnight. Everybody is tired from their flights.
Sofia – Vitosha Mountain
That was the day devoted to Sofia. A sightseeing tour Sofia – to see if Sofia has changed for the last 30 years.
Sofia is the capital of Bulgaria and it`s not a big metropolis (just like whole Bulgaria – small and full of beauty and surprises). But it`s a modern, youthful city where churches, synagogues, Ottoman mosques and communist monuments live together peacefully and in harmony. Sofia is an old settlement with the previous name of Serdica. The tour offers a good mixture of traditional and modern Sofia. Well, has Sofia changed? Has Bulgaria changed for the last 30 years?
Some time spent on Vitosha Mountain. When one lives in a big city, where life never seems to stop and the city is at the foot of a mountain, is considered lucky. Vitosha Mountain means relaxation and it`s a great opportunity to slow the pace down a little bit.
You like to learn more then please visit www.enmarbg.com.
Read More about A Womans Wrath part 1