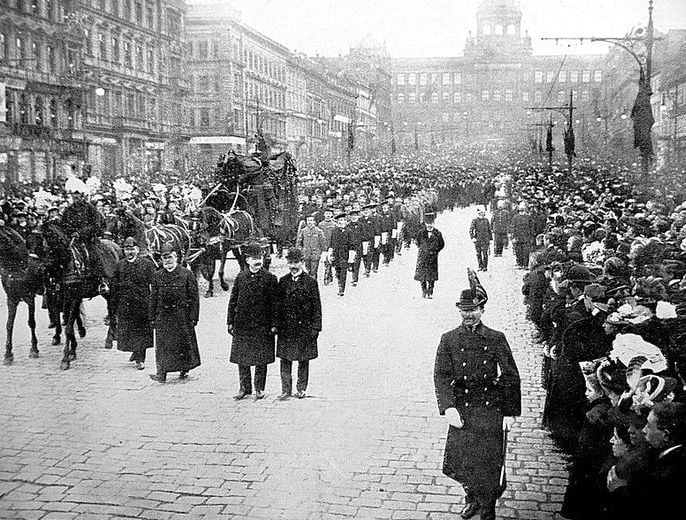 The rooms on the first floor, reserved for the nobility, were filled with superfluous luxury. The spiders, their only occupants, let themselves down on fine threads from the glitteringly colored ceilings to the soft carpets and wove their delicate webs around the ornamentally carved arms of chairs, upholstered in velvet. The officials and servants in the castle knew their masters only by hearsay. They painted them as they could, with ideal colors, to be sure.
From letters, from various rumors carried from one manor to the next, from imagination, they put together pictures of all these personages who, from a distance, like gods, with invisible hands reached out and controlled their destinies. In clear outlines there appeared the images of barons, baronesses, the young baronets and sisters, the maids, nurses, the wrinkled, bewigged proctor, the English governess with a sharp nose, the fat footman, the peculiarities of each were known to them to the minutest detail.
But to behold these constant objects of their dreams and discussions, these ideals of theirs, face to face, was for them a prospect at once blinding and terrifying.
In the castle, feverish excitement reigned. From the upper rooms echoed the creaking*of folding-doors, the noise of furniture being pushed hither and thither, the whisking of brooms and brushes. The steward`s wife ran about the courtyard from the chicken house to the stables without a definite purpose. The steward hunted up various keys and day-books and charged the blame for all the disorder on the head of Beruska, who, suspecting nothing, was just then in the office, rubbing perfumed oil on his blond hair.
Face twitching violently
Old Foltyn stood erect in the driveway with his drum swung from his shoulder, every muscle in his face twitching violently as he extended his hand with the drumstick in the direction of the approaching carriage as if, like Joshua of old, he execrated it, commanding it to tarry in the village until all was in readiness. Through his old brain there flashed visions of splendidly ornamented portals, maids of honor, schoolboys, an address of welcome, flowers on the pathway…. But the carriage did not pause.
With the speed of the wind it approached the castle. One could already see on the road from the village the handsome bays with flowing, bright manes and the liveried coachman glittering on the box. A blue-gray cloud of dust arose above the carriage and enveloped a group of gaping children along the wayside. Hardly had Foltyn stepped aside a little and doffed his shaggy cap, hardly had the soft white silhouette of Melanie disappeared in the ground-floor window, when the eminent visitors rattled into the driveway.
Read More about Soup diet