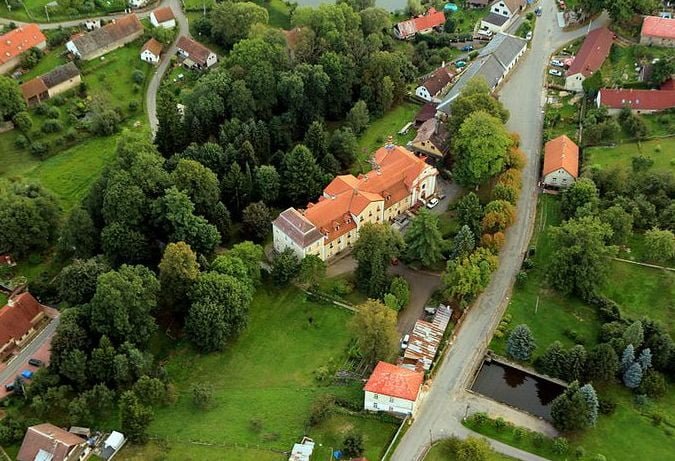 "Here, dear child!" she said to her, agreeably, pointing to the floating cobweb.
The girl bowed awkwardly, and for an instant under her light lashes there was a flash of dark blue as she stepped timidly forward. The brush did not reach the cobweb. She had to step up on her tiptoes. Her entire face flushed with a beautiful red glow, her dark-blue eye lifted itself towards the ceiling, her delicate white throat was in full outline, and below it there appeared among the fringes of the yellow shawl a string of imitation corals on the snowwhite folds of her blouse. Add to this the dainty foot of a princess and acknowledge—it was an alluring picture.
Objectionable had been removed
When all that was objectionable had been removed, the baroness tapped Marianka graciously on the shoulder and asked, "What is your name?"
"Marie Foltynova," whispered the girl.
"Foltyn? Foltyn? What is your father?"
"The gate-keeper, your Grace!"
"Doubtless the man with the drum," suggested the baron, and a light smile passed over his face.
"Go into the next room and wait for me," said the baroness to the girl. When she had departed, the baroness turned to her husband with these words: "A charming maiden. What do you think of her?"
"Well, it`s a matter of taste."
"I say—charming! Unusually beautiful figure, a most winsome face and withal—such modesty!"
"The statuette is threatened with a rival."
"Jokes aside, what do you say to my training her to be a lady`s maid? To taking her into service? What do you say to it?"
"That your whims are, in truth, quite varied," he answered, yawning.
The baroness indulged her whim with great energy. She immediately asked the girl if she would like to go to the city with her and, not even waiting for her answer, engaged her at once in her service, rechristened her Marietta, described in brilliant colors the position of a lady`s maid, and, at the end, made her a present of a pair of slightly worn slippers and a coquettish house cap.
Old Foltyn was fairly numbed with joyous surprise when Marianka, with the great news, returned to him. Even in his dreams he would not have thought that his daughter would be chosen by fate to become the glittering pendant to that footman of whose relationship the entire Foltyn family boasted. Instantly he forgot the incident of the drum, his gait became sturdier and his eyes glowed like a youth`s.
Read More about Two Worlds part 3