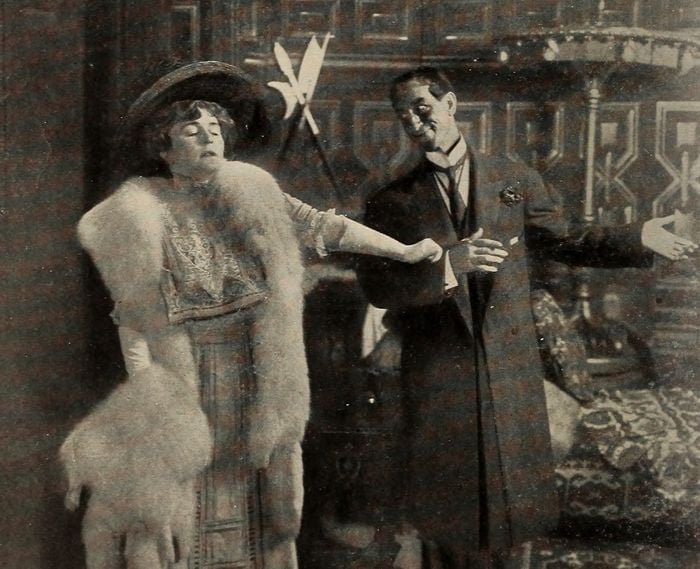 She lay resting on a large sofa when the Red Bone (that was what they called the Scarlet Count among themselves) entered the room. She rose and went to meet him, offering him a seat. The Lord sat down, on a footstool and, as was customary with knights, held his sword between his knees. The Lady, who until now had not dared to cast even a glance at the sword, looked at it shyly. She was taken aback by the sight. The sword, studded with diamonds and precious stones, ended at the hilt in a simple silver sheet. It had an uncanny faded look about it and gleamed in the dimness of the room with a ghostly light.
They could not see the thirty-three women peeping in from behind the heavy drapery and curtains. But these women agreed that the Count looked irresistibly powerful, though they always before considered him ridiculous.
"It`s fine weather," said the Red Bone.
"Yes, very fine," said the Lady, and was greatly relieved when she saw that the Count had not placed his hand on the hilt of the sword.
"Neither too warm nor too cold," said the Count.
"Very pleasant, indeed," said the Lady.
Company of a beautiful woman
"At noon it`s warm, but the nights are cool," the Count went on, "but to-night the sunset is the most wonderful of all, more wonderful indeed if one spends the time in the company of a beautiful woman."
And so saying, he placed his large red hand upon the silver hilt.
The Lady, who had been watching it with staring eyes, began to tremble a little. The heavy curtains began to move and a pleasant tremor passed through the veins of the women.
"He placed his hand on it," said those in. front to those standing behind.
"He placed his hand on it… he did indeed!" the whisper passed around.
The Lady of the Castle could not take her eyes off the hand resting upon the hilt. The Red Count was talking away foolishly, but the Lady paid no attention to what he said.
"Eh," she said to herself, "the whole thing is a stupid superstition; why should I look at it at all?"
But as soon as she looked away, something constrained her to look back immediately. The Count drew his footstool nearer to her, grasping at the hilt with all his might. The lady grew frightened.
"Why are you afraid of me?" asked the Count with a smile. "I do not wish to hurt you On the contrary…"
"Perhaps it would be better," whispered one of the women behind the curtain, "if we left them alone."
Read More about Bulgaria trips