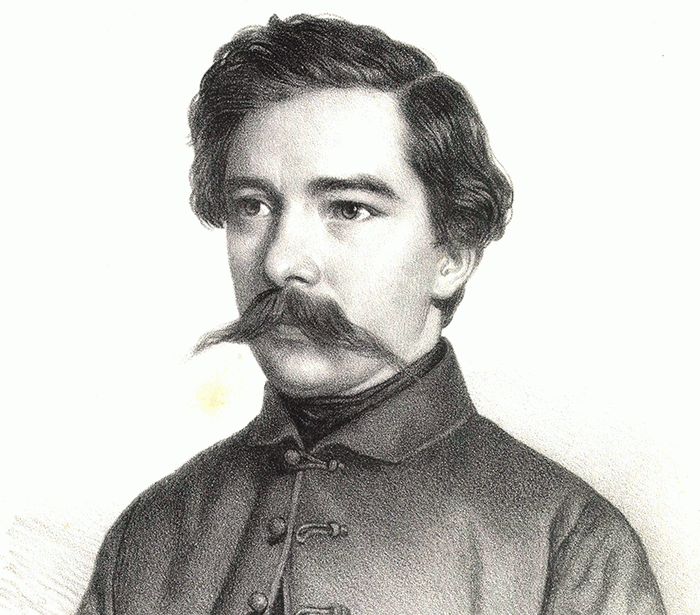 Thus wailed the Maestro, bending to the floor again and again to stroke his long whiskers.
Suddenly, in the midst of his distress, he heard footsteps in the corridor. In a moment the door opened, and in the middle of the diabolical kitchen stood Count Scarlet with threateningly puckered eyebrows. The Count was tall, lanky, freckled1, with close-cropped red hair, and a wicked bony face. His hands were as large as beefsteaks. His knees stuck out from his tightly fitting trousers like two bunions. He lifted his aristocratic, hairy red hand, and his tiny pig eyes grinned searchingly:
"Well, Maestro!"
The Maestro suddenly grew limp and tried to sit down on the air. He gulped a big dry gulp, turned the color of onyx and faintingly whispered, "Well, what does that `Well` mean?"
"It means what it means," said the Count coldly.
Deadly silence
It was a terrible moment. The seriousness of the situation was accentuated by the fact that the Count had deviated from his usual custom, in rising at such an early hour. It was evident that he was in earnest about his threat. Deadly silence reigned in the room. Only the strangesmelling concoction of herbs boiled impertinently in the stillness of the room.
"Count," said the Maestro at last, "there is no gold."
"Then give me your whiskers," shouted the Count, and leaped toward the Maestro, who quickly threw his whiskers across his left shoulder so that they hung down over his back.
"Stop, sire!" he yelled in despair.
The Count was startled.
"What is it?"
"There is no gold," moaned the Maestro, "but there is something better."
"What?"
At this moment Maestro Super pollingerianus made an awful gulp, but this time it was no longer dry. His mouth watered at the thought of the fine lie that had just occurred to him. He felt that he was saved.
"What?" repeated the Count sternly.
"Something that is better than gold."
"The philosopher`s stone?"
"No."
"What then?"
"The happiness of eternal love!" said the Maestro, and gulped again.
The Count stroked his nose. This was a sign of scepticism.
"Must I swallow this?" he asked. "Must I swallow this lie, too, as I have swallowed for a year and a half all the deceptions with which you have contrived to prolong your stay here, you shameless blot upon the heaven of science?"
To be undecided is half of believing, thought the Maestro and went on developing his lie with the greatest tranquillity.
"In the course of my experiments I have discovered the way to conquer the feminine heart."
Read More about The Attendant`s Confession part 4